As President of TNT Plastic Molding, Inc., I would like to personally take the time to welcome you and thank you for your interest in our products and services. I look forward to fostering a long and mutually beneficial relationship with you and your organization.
We at TNT Plastic Molding have been serving the manufacturing community since 1973. Our services include rapid engineering, tooling, wire EDM, injection molding, sub-assembly, Kan-Ban, and consignment storage. During this time, we have built our reputation by combining honest hard working solutions with quality. We pride ourselves on developing long lasting relationships with those we service.
We maintain our relationships through our commitment to service. It is our objective to treat every customer as if they were our only customer. We are dedicated to upholding quality and service to each of our customer's individual needs. In doing so, it is our goal to exceed normal expectations. This is achieved through the following: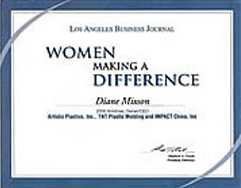 Commitment to excellence in everything we do
Technically trained employees
Providing timely and accurate responses to requests from our customers
Innovation and change in response to market demands
It is my hope that your visit to our website has provided you with some knowledge about our company and that should you ever require any of our services or are interested in a competitive quote, that you will provide us with the opportunity to earn your business, your trust, and allow us to provide you with solutions that will exceed your expectations.
If you have any questions regarding our company, its capabilities or services or just would like to speak with one of our representatives in person, please feel free to visit our "Contact Us" page. If you would like to speak with me personally and reach my voicemail, I assure you that I will be in touch with you no later than the next business day.
Sincerely,
Diane Mixson
President